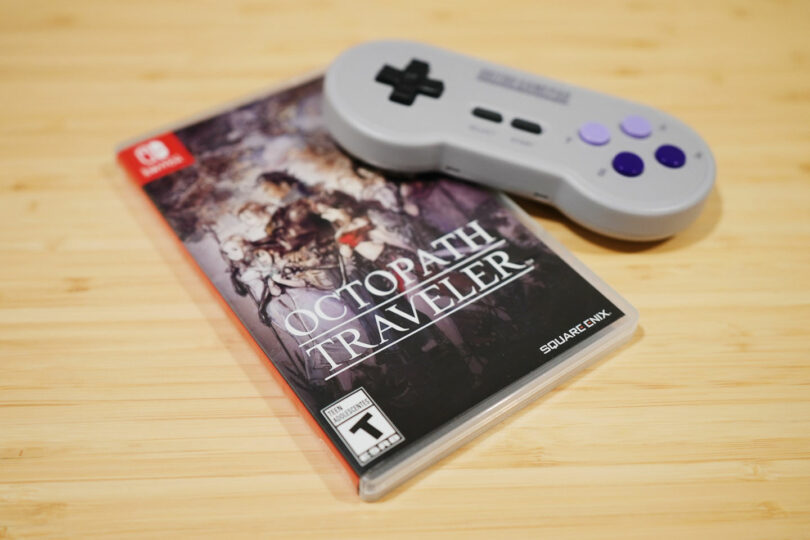 Octopath Traveler is an RPG developed by Square Enix and Acquire, released in 2018. It had a unique art style that Square called HD-2D, which utilized pixelated 2D character sprites in a 3D world. Visually it reminds me of early PlayStation RPGs like Breath of Fire III and Dragon Quest VII. The game received pretty favorable reviews, currently holding an 83 on Metacritic. Square has plans to re-use the art style in many upcoming games, including Triangle Strategy, which should be coming out this Friday.
I started Octopath Traveler when it launched and really enjoyed it. Something about it always felt a little off to me, though. Not only did the art style evoke a very retro feel, so did the gameplay mechanics and controls. So one day, I decided that I would use a Super Nintendo style controller instead of my standard Joy-Con. In my case, I had the 8BitDo SN30, which I'm not sure is still available, but there is an SN30 Pro version with analog sticks. I'm sure the official SNES controllers that Nintendo has available online would do the trick too. And wow, what a difference that made. Everything about it just clicked. The art, the gameplay, the controller, it felt right! I had a similar experience when playing Shovel Knight with the 8BitDo M30. So from now on, if it's a retro-inspired game, I'm going in with a retro-inspired controller, no question about it.
If you haven't tried Octopath Traveler yet, you really should if you're a fan of JRPGs. And if you do, make sure you use a Super Nintendo controller. It made the game so much more fun and memorable for me.