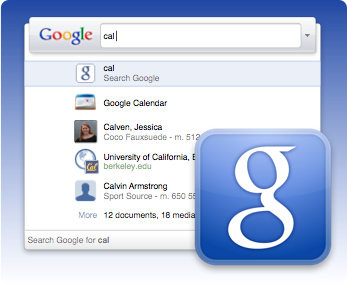 Google released the first developer preview of this software in January as a compliment to Google Mobile for iPhone, and it is now available to the public. It is a Mac-only piece of software, and it reminds me a little of Quicksilver. It searches for files on your computer, searches the web, and can complete tasks such as playing music and launching apps. It even has a built-in Twitter client so you can post to Twitter using nothing but Google Quick Search Box.
While the app is running you can hit either Control + Space, or both Command keys to bring up the search box. Then you start typing and the search begins. You can type the name of an app to launch it, you type the name of files, websites, contacts, and Quick Search will launch them all in your default apps. You can put in search queries and it will search the web. You can put in the name of an artist, album, or song and it will play in iTunes. It is a very versatile app.
Once you have the item you're looking for, such as a file, pressing the Tab key brings you to the Actions menu. A picture file, for example, will let you convert it to different formats, get info, move to trash, open, quick look, rotate, and scale. Looking up a music artist and pressing Tab will show you all their albums, which you can then press the arrow keys to see the songs in the albums.
As for Twitter you just start your text string with a blank space, then type your tweet, and then hit Tab and it gives you the option to send it as an update to your Twitter status. Very basic, but helpful if you need to send out a quick tweet while you're in the middle of doing other things. It is by no means a replacement for a full-fledged app like Tweetie, but it could come in handy from time to time.
If you are a fan of application launchers and desktop searches I think this one deserves a look, if you have a Mac anyway. I was always overwhelmed with Quicksilver so I never used it, but this is something I could see myself using from time to time. It's open-source, and constantly being updated so it will probably get better with new functionality in the future too. You can get it for yourself at the Google Code site.